Barbecue with friends! Have a good time!
😆😆😆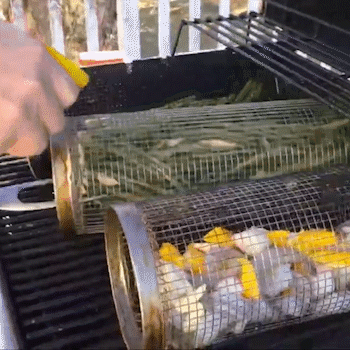 CHARACTERISTICS
🍖360 degree rotating design makes the food heated more evenly and taste more delicious.  This unique grill basket has many uses. Our stainless steel baskets are perfect for roasting and grilling your favorite vegetables. This basket doubles as a wok of sorts for healthy stir-fries of shrimp, scallops, ground chicken or pork.  It can even be used to smoke meat, making it a necessary addition to your stovetop.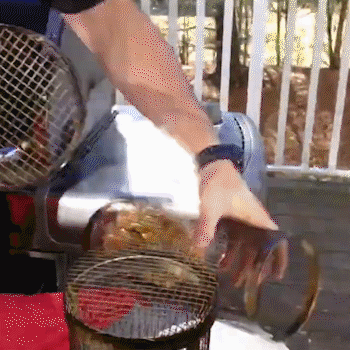 🍖 Stainless Steel Construction: Made entirely of stainless steel, these grill baskets are grill safe and easy to clean. No food is lost between the grates and it can be used as a wok, smoker or grill basket.
🍖 It is dishwasher safe and very easy to use again and again.  Whether you use a gas or charcoal grill, this basket will work.

🍖Easy to Use:  Using movable doors, it is more convenient to open, close and take out food. The unique door opens and closes easily and fits perfectly into your original rotisserie when used in the roaster.

🍖Grill Like a Pro:  No matter what you want to grill or smoke, this portable grill tool makes the job easy. Once you've used this incredible grilling tool, you can't go back.

🍖No more manual turning: This grilling accessory is a must because it means you no longer have to manually turn your food. Turning large amounts of food while grilling can be tedious. This grill tool makes grilling easy and efficient. Simply load the basket, press to close, place under the grill cover and turn frequently with our heat-resistant grill gloves or grill tongs.
SPECIFICATIONS
Material:  stainless steel

Size:  21*9*9cm
Weight:  165g

Package:  1/2 * Cylindrical Grill Basket