One Second Release All Ice Cubes!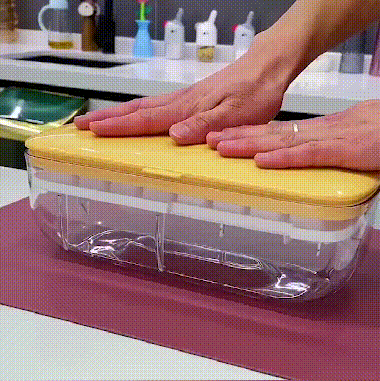 Features:
✅One Second Release All Ice Cubes: Freeze your ice and only need 1 second to release 24pcs ice cubes each time with the press plate and dump into the ice bin for easy access.
 

✅Easy to Use: Ice cube tray is designed with flexible and non-stick, which is easy and convenient for you to release ice cube from this mold quickly.


✅Food Grade Safe Material: Made of BPA-Free and Premium plastic, our ice cube tray is safety and durability and reusable.

✅Stackable and Space Saving design: Tray can stack easily in the ice box, and the lids keep ice cubes from absorbing freezer odors. Note: The lid can not sealed.
The ice cubes are perfect for whiskey, cocktails, smoothie, juices, or other mixed drinks. You can also fill fruits, jelly, baby food, coffee, vegetable puree, yogurt and chocolate into molds. Rinsed with running water for easy cleaning.
Package Includes:
Press type Ice Cube Maker*1